2019 Sunday Couples Fun Night !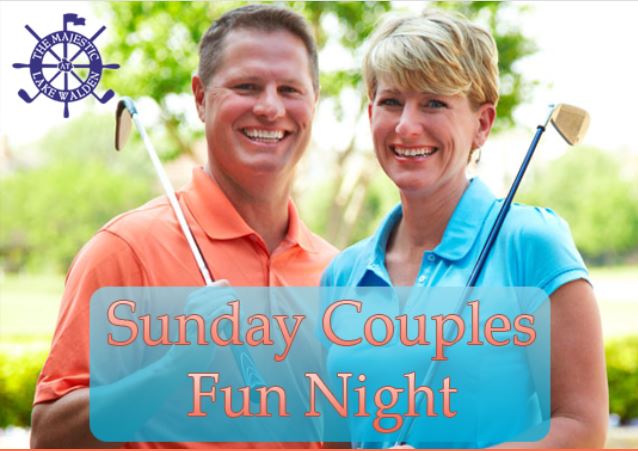 The Majestic at Lake Walden is pleased to bring back Sunday Couples Fun Night! This is NOT a league; it is non-committal and has a non-competitive format. Couples will pair up and play nine holes of scramble golf. Bring some friends to add to the fun! Please reserve your spot in the proshop or call (810) 632-5235

.

Time: Tee times will begin between 4 and 6pm.

Format: 9 Hole Scramble

Includes: Two nine-hole rounds, a cart, $3 that goes into the prize fund, as well as a sandwich, chip, and fountain pop.
| Dates | Events |
| --- | --- |
| May 6 | String Game |
| May 13 | No Sunday's Couples Fun Night this week |
| May 20 | Long Putt |
| May 27 | Dice Game |
| June 3 | Men's & Women's Closet to the Pin |
| June 10 | String Game |
| June 17 | Father's Day - No Sunday Couples Fun Night |
| June 24 | Playing Cards Game |
| July 1 | Scotch Doubles |
| July 8 | Men's & Women's Longest Putt |
| July 15 | No Sunday's Couples Fun Night this week |
| July 22 | Mystery Putting |
| July 29 | Low Number of Putts |
| August 5 | Dice Game |
| August 12 | Mystery Envelope |
| August 19 | Grand Finale |
The Majestic at Lake Walden
P.O. Box 477
9600 Crouse Road
Hartland, Michigan 48353

810.632.5235
Fax 810.632.7060
Majestic@majesticgolf.com
Site hosted and maintained by cybergolf